Red White and Blue Honey Baked Goat Cheese Salad with Blackberry Lemon Vinaigrette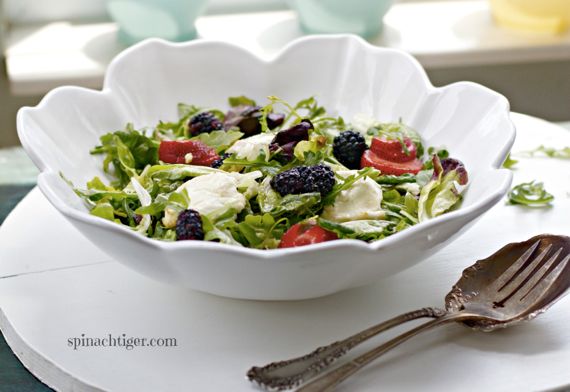 8 cups assorted spring greens and arugula
1 cup of Berries, Blackberries, Raspberries, Strawberries
6 slices of goat cheese
6 teaspoons honey
1 ounce white chocolate for garnish
sea salt
freshly ground black pepper
5 tablespoons blackberry vinaigrette
10 tablespoons lemon olive oil (can use regular olive oil see notes)
5 tablespoons blackberry red pepper vinegar (can use balsamic, see notes)
1 teaspoon Dijon mustard
Preheat oven to 350 degrees
Wash and rinse greens and arugula. Use a salad spinner or paper towels to dry.
Wash fruit, only right before using.
Place sliced goat cheese on parchment paper. Drizzle each with up to a teaspoon of honey. You may not use all of it, just enough to cover.
Bake goat cheese until golden brown, 15-20 minutes.
Assemble greens, first and toss with viniagrette. Use just enough to glisten the greens. Season green with salt and pepper. Toss again.
Arrange berries on the salad.
Place goat cheese on salad right before serving. Season once more with freshly ground black pepper.
If you have Olivia lemon olive oil and blackberry red pepper vinegar, mix vinegar with mustard first and then pour oil in jar. Give a good shake. Taste. You can decide then if you want to add in more vinegar or more oil. Vinaigrette should be sweet and tangy.
You can make an alternative blackberry lemon vinaigrette as follows:
10 tablespoons olive oil
juice of ½ lemon
3 tablespoons balsamic vinegar
¼ cup blackberries and 2 tablespoons honey preserves
1 teaspoon dijon mustard

Mix blackberries with honey and blend well in food processor. Strain.
Mix mustard with vinegar and blackberry juice. Add lemon juice. Stream in olive
oil. Shake well.
Recipe by
Spinach Tiger
at https://spinachtiger.com/red-white-and-blue-honey-baked-goat-cheese-salad-with-blackberry-lemon-vinaigrette/