Savory Spicy Tomato Basil Eggplant Bread Pudding with Tabasco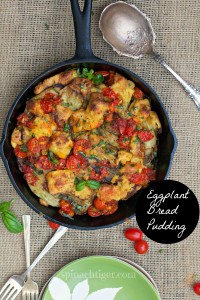 6 cups of brioche bread cut into 2 inch cubes
1 small eggplant, peeled and sliced lengthwise
4 tablespoons of olive oil or canola oil
2 tablespoons of chopped basil
1 cup cherry tomatoes, cut in half, crosswise
1 tablespoon of Tabasco Sauce
4 eggs, beaten
sea salt
freshly ground pepper
After cutting brioche bread into 2 inch cubes, allow to sit overnight or even for two days.
Bake in oven spread out on baking sheet at 375 for 6-10 minutes, just until golden.
Cut eggplant lengthwise, thinly. Salt and leave for one hour. Pat down with paper towels to get the moisture that will appear out of the eggplant.
Heat oil in pan and without crowding pan, fry eggplant in olive oil on medium heat until golden brown.
Saute tomatoes mixed with Tabasco sauce, about one tablespoon
Assemble bread pudding.
In a bowl toss the bread cubes with the beaten eggs and half of the tomatoes.
Season with salt and pepper.
In a small baking dish or cast iron pan, layer the bread, tomatoes and eggplant.
Layer first with bread. Top with eggplant slices.
Top with another layer of bread, another layer of eggplant, and finish with bread and tomatoes.
Bake at 375 for 45 minutes.
Recipe by
Spinach Tiger
at https://spinachtiger.com/savory-spicy-tomato-basil-eggplant-bread-pudding-with-tabasco/