Bacon Mac N Cheese Nachos, The Perfect Party Bite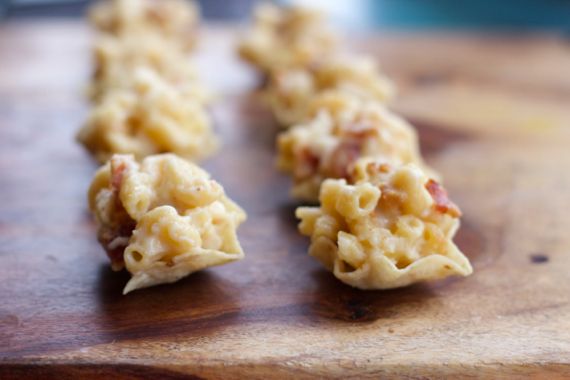 1 pound elbow macaroni
Pasta & Grains
1 lb Macaroni
Baking & Spices
2 tablespoon sea salt, divided
½ cup Flour
2 tablespoons Salt
1 pound elbow macaroni
3 oz Pecorino romano cheese (option replace with pepper jack cheese)
8 oz Tillamook Sharp White Cheddar cheese
4 cups Milk
8 tbsp Butter
6 slices smokey bacon
1 bag scoop type tortilla chips
pinch cayenne pepper (option)
You can make whole order of mac and cheese and freeze half for later. You will probably not use the whole thing.
Cook elbow macaroni according to directions minus a minute (al dente).
For the béchamel:
Heat milk in saucepan on medium-high to simmer, not boil. Turn off.
Melt bottom in large saucepan on med. heat.
Make a roux. Add flour to butter and whisk until it turns light brown. Turn heat off, continue whisking and add hot milk until mixture is fully incorporated and smooth. I
Turn heat back on to medium and whisk constantly until the sauce is thick about 2 to 3 minutes. Stir in one tablespoon of sea salt, and taste to see if you want more salt. Keep in mind that pecorino romano is a salty cheese.
Stir in cheeses until fully incorporated.
Stir in drained macaroni and pour into a baking dish.
Bake at 350 for 30 minutes.
If serving as a mac and cheese course, top with crispy bacon bits.
Spoon warmed mac and cheese into tortilla scoops.
Top with smoked bacon.
You can prepare right before guests arrive and put under the broiler to heat up.
You can make the mac and cheese as a side dish. You can also optionally top with panko breadcrumbs before baking.
If making for this appetizer, skip the breadcrumbs.
Recipe by
Spinach Tiger
at https://spinachtiger.com/bacon-mac-n-cheese-nachos-the-perfect-party-bite/