Traditional Stove Top Irish Soda Bread.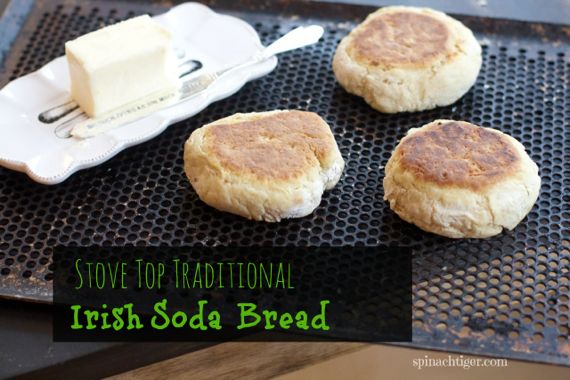 2 cups / 280 grams soft winter wheat flour (White Lily), plus more for dusting
1 teaspoon salt
1 teaspoon cream of tartar
1 heaping teaspoon /10 grams baking soda
1 cup / 236 milliliters buttermilk
Olive oil or rapeseed oil, for oiling pan
Mix flour, slat, cream of tartar, baking soda together in large bowl.
Using a wooden spoon, pour buttermilk in center of flour and mix.
Bring together to form sticky dough.
Turn sticky dough onto heavily floured surface.
Form dough into a ball, and flatten to about ½ inch.
Either leave in one piece or cut into four quarters and make four round soda breads.
Place just enough oil in pan to cover surface and cook on each side for 8 minutes on medium heat.
Flour: You can use all purpose flour, but it will be heavier than traditional soda bread. If you can, choose a soft winter wheat like White Lily.
Recipe by
Spinach Tiger
at https://spinachtiger.com/book-review-for-irish-pantry-and-recipe-for-stove-top-irish-soda-bread-farls/