Tarragon Pea Mash with Crispy Pan Fried Salmon (Paleo Friendly)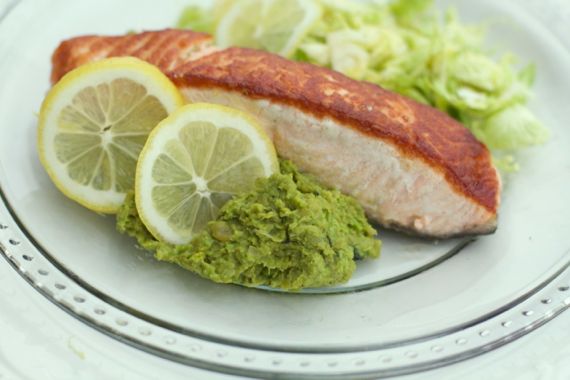 1 tablespoons olive oil or coconut oil
1 tablespoon butter (or use more oil of choice)
1 leek, sliced
2 shallots or ½ onion, diced
juice of one lemon with zest
big handful fresh basil
big handful fresh tarragon
1 pound of salmon cut about 2 inches thick.
Saute leeks and shallot (or onion) in oil and butter until softened.
Add frozen peas.
Add half lemon zest. Save remaining for salmon
Season with salt and pepper
When peas are warmed through, turn off heat.
Add in the juice of one lemon
Add in fresh herbs.
Place in blender or Vitamix or use a stick blender to mash, leaving as a mash, not a puree. You may need to add in some more olive oil.
Take salmon out 30 minutes prior to cooking.
In the meantime, take the other half of the lemon zest and place in olive oil.
Season salmon with salt and pepper.
Heat lemon olive oil in frying pan that is just large enough to hold salmon.
On medium heat, fry salmon top side first for 3 minutes or until it's crispy and moves away from the bottom of pan easily. Turn over.
Fry skin side down for another 4-6 minutes until the bottom is crispy. Cover the pan to cook through. Be careful not to overcook.
Place on top of the pea mash. Serve immediately.
You can add an avocado to the pea mash, for a creamier version.
Recipe by
Spinach Tiger
at https://spinachtiger.com/tarragon-basil-pea-mash-with-crispy-pan-fried-salmon-paleo-friendly/