Ten Minute Buttery Spaghetti with Peas & Bacon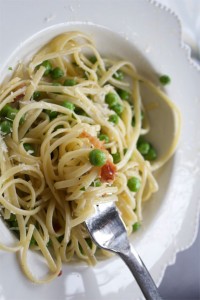 1 pound spaghetti (or macaroni)
6 slices bacon
½ cup good quality unsalted butter
1 tablespoon extra virgin olive oil
2 cups frozen peas
sea salt
freshly ground black pepper
¼ cup freshly grated parmigiano reggiano
Cook pasta according to directions one minute less in large pot of boiling, salted water.
While pasta is cooking, fry the bacon. Drain on Paper towels, break into small pieces.
In frying pan, put butter and olive oil. Drain pasta and add to buttery pan. Add in frozen peas, cook for one minute. Toss with bacon. Season with salt and pepper.
Serve with parmigiano reggiano.
Options: Use macaroni instead of spaghetti. Toss with goat cheese instead of Parmesan. Add in mushrooms or toasted bread crumbs.
Recipe by
Spinach Tiger
at https://spinachtiger.com/ten-minute-buttery-spaghetti-with-peas-bacon/