Rack of Lamb and Brussels Sprouts in Under 30 Minutes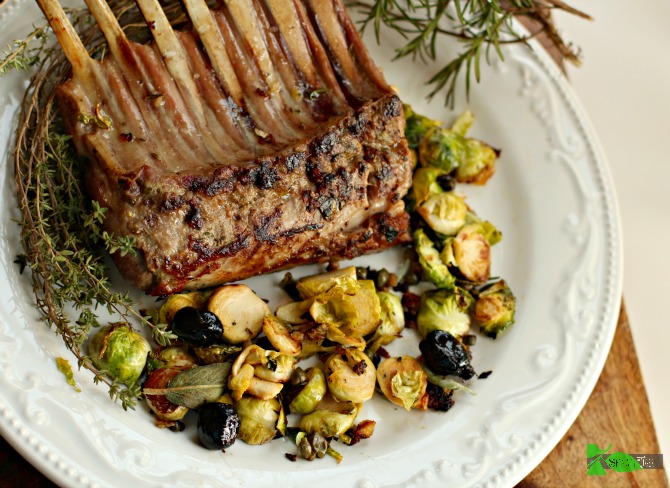 1 rack of lamb, frenched
2 tablespoons Dijon mustard
3 tablespoons olive oil, divided
1 teaspoon capers (optional)
4 cloves fresh garlic, minced
sea salt
freshly ground black pepper
½ pound Brussels sprouts
1 tablespoon Italian black olives
2 tablespoons Italian parsley
Prepare a marinade of 2 tablespoons olive oil, Dijon mustard, and minced garlic, capers. Look here for an easy way to peel garlic.
French the rack of lamb, cutting all the fat between the bones (your butcher can do that). Cut off most of fat across the rack. Lamb can often have too thick of a fat layer. It will still be juicy. Trust me on this.
Smear the marinade all over the lamb. Cover and marinade for 4-6 hours.
Take out of refrigerator 30 minutes before cooking.
When you do that, preheat oven to 450 and prepare Brussels sprouts.
Wash and trim Brussels sprouts and Slice them in half. Toss them in olive oil and season with salt and pepper. Add olives if you like.
Heat cast iron pan in oven for about ten minutes.
Place rack of lamb in oven for 10 minutes.
Add in Brussels sprouts.
Continue to roast both for ten minutes. Check temperature of lamb. An internal temperature of • 130-140 °F (54-60 °C) will give you medium rare.
If Brussels sprouts don't seem done enough, remove lamb to a serving dish, cover with foil, allow to rest, and cook Brussels sprouts a few more minutes.
Season lamb chops with salt and pepper and chopped Italian parsley.
Normally, I add freshly chopped thyme and rosemary to my lamb chops. I didn't have any and I used parsley. Feel free to add thyme and rosemary.
Recipe by
Spinach Tiger
at https://spinachtiger.com/rack-of-lamb-and-brussels-sprouts-in-under-30-minutes/