Pennsylvania Dutch Sand Tarts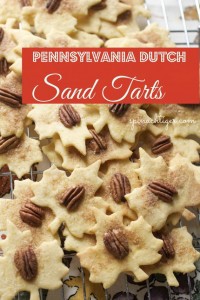 ½ pound butter, softened (no substitutes)
2 cups sugar
1 teaspoon salt
1 teaspoon vanilla extract
3 eggs, separated
3 cups all-purpose flour
¼ cup sugar mixed with ¾ teaspoon ground cinnamon
1 egg beaten
4 cups whole pecans (although I didn't use that many)
If using a kitchen aid, beat the egg whites stiff first and transfer to another bowl.
In the mixing bowl, beat butter until very softened. Add sugar and beat until fluffy. Add salt, and vanilla. Beat egg yolks and add.
Fold in the egg whites, but not totally. You should still be able to see some of the white patches.
Add in flour 1½ cups at a time.
Chill overnight.
Bake the next day at 350 degrees.
Roll out a quarter at a time, keeping dough in refrigerator.
Roll very thin and use a 2 inch scalloped cookie cutter to form or use any Christmas cutter you desire.
Brush with beaten egg, top, sprinkle with cinnamon sugar and top with pecan.
Bake 9-10 minutes, not allowing cookie to get too brown.
Cool thoroughly on wire racks.
Pack in tins.
Recipe by
Spinach Tiger
at https://spinachtiger.com/pennsylvania-dutch-sand-tarts-an-amish-christmas-cookie-with-video/