Southern Candied Sweet Potato Pie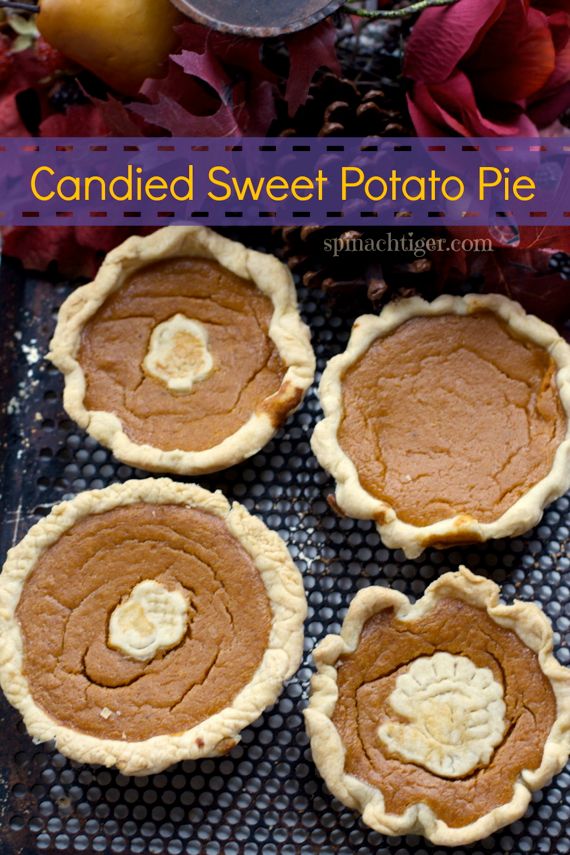 Cuisine:
Candied Sweet Potato Pie
2 cups of candied sweet potatoes (see note)
1 can evaporated milk
2 eggs
2 large sweet potatoes
¼ stick butter
¼ cup brown sugar
½ teaspoon cinnamon
¼ teaspoon ground cloves
dash freshly ground nutmeg
¼ teaspoon salt
¼ orange
Puree candied sweet potatoes in food processor or Vitamix.
Add evaporated milk, eggs. Blend.
Roll out pie dough and place in pie pan. Fork the bottom.
Pour puree into the shell.
Bake at 350 for 45-50 minutes, less if making small tarts and pies.
If you don't have left over candied sweet potatoes, you can make these ahead and cool first.
Peel, and slice potatoes cross wise.
Put butter, brown sugar, and spices in pan. Cook until melted down. Put in sweet potatoes, squeeze orange and throw in pot.
Cook for 45-60 minutes until sweet potatoes are softened.
Cool. Proceed with recipe.
Recipe by
Spinach Tiger
at https://spinachtiger.com/two-ways-to-make-homemade-southern-sweet-potato-pie/