Autumn Biscuits with Candied Sweet Potatoes for a Thanksgiving Dinner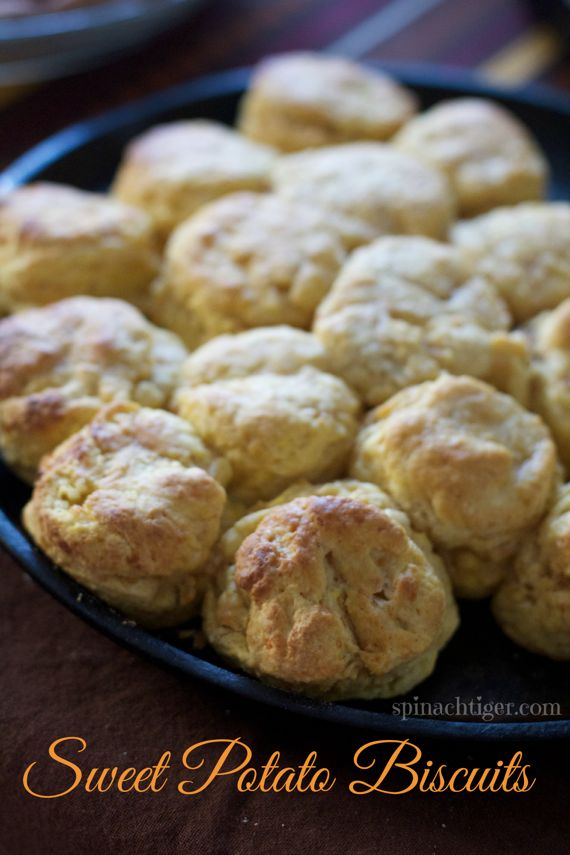 1 cup cold candied sweet potatoes (see notes)
2 cups soft wheat flour (all purpose Lilly White)
1 teaspoon salt
1 teaspoon sugar
1 tablespoon baking powder
6 tablespoons cold unsalted butter, cubed
¾ cups full fat buttermilk
Put flour in bowl. I make my biscuits in a wide bottomed wooden bowl.
Add baking powder, salt, sugar.
Add in butter, mixing with hands or cut in with a pastry cutter.
Mash sweet potatoes.
Add in sweet potatoes, mix with a wooden spoon or your hands.
Add buttermilk. Dough will appear too wet at first, but you will be able to pat down to approximately an 8 inch disc.
Using a biscuit cutter, cut biscuits. Put into cast iron griddle or frying pan, touching. You can also use a baking sheet.
Bake at 450 degrees for 15 minutes.
You can use my candied sweet potato recipe or just use your own left over candied sweet potatoes. If you don't have candied sweet potatoes, use a cooked sweet potato mixed with 2 tablespoons brown sugar.
Recipe by
Spinach Tiger
at https://spinachtiger.com/autumn-biscuits-candied-sweet-potatoes-biscuits/