Retro Rose's Legendary Stove Top Candied Sweet Potatoes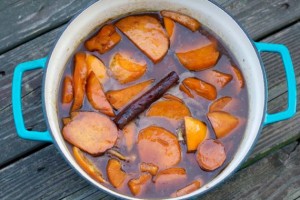 2 sticks butter
2 cups brown sugar (see notes)
8 sweet potatoes, peeled
1 teaspoon cinnamon
1 or 2 cinnamon sticks order here
½ teaspoon cloves
½ teaspoon freshly ground nutmeg order here
½ cup apple juice
1 teaspoon salt
black pepper
1 large naval orange cut into 4 pieces
Cut sweet potatoes across into ½ discs.
In a dutch oven (large enough to fit all sweet potatoes), melt the butter with brown sugar. Add cinnamon, ground cloves.
Add in sweet potatoes.
Squeeze oranges over potatoes. Put orange skins in pot.
Season with salt and pepper.
Add in cinnamon sticks, nutmeg, and apple juice, (can add water or orange juice). You will need to judge how necessary adding liquid is.
Cover and cook on low heat for about an hour, stirring every ten minutes or so.
substitute ¼ cup brown sugar with 2 tablespoons maple syrup
Recipe by
Spinach Tiger
at https://spinachtiger.com/retro-roses-legendary-stove-top-candied-sweet-potatoes/