Roasted Butternut Squash Soup with Browned Butter Sage Leaves, Toasted Pecans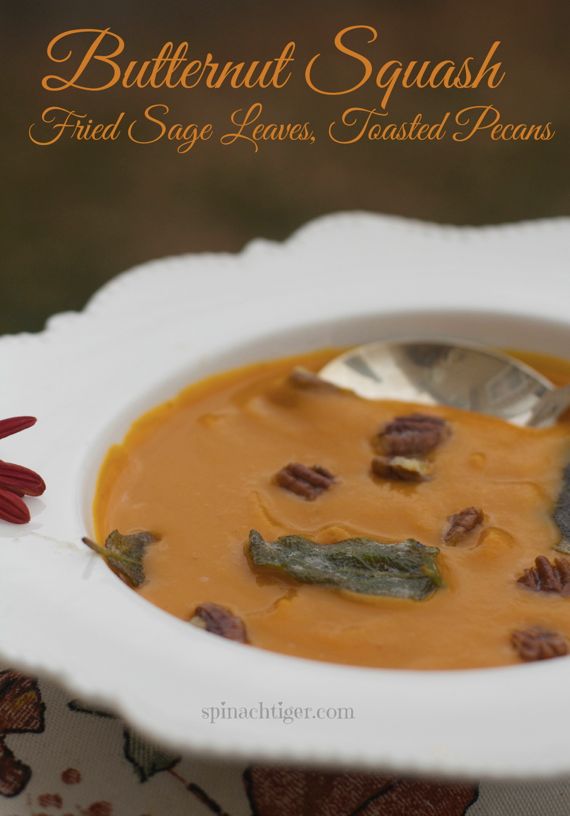 2 whole butternut squash
1 medium sized apple (if using a Vitamix, see note)
2 organic carrots
½ onion or 1 shallot
2½ cups water (may not use all of it)
dash cinnamon
pinch ground cloves
pinch freshly ground nutmeg
1½ teaspoons salt
¼ teaspoon sriracha (more if you want it hotter)
1 tablespoon pure maple syrup
12 sage leaves
2 tablespoons butter
9 pecans
freshly ground black pepper
Preheat oven to 375
Roast squash, apple, carrots, onion, in baking dish until each is softened. Check at 20 minutes for onion, and ten minutes after that.
Remove the apple, carrot and onion and set aside.
Once the butternut squash skin blisters and is softened, remove and cool until you can slice in half.
Scoop the seeds out and discard. Scoop out flesh into a bowl.
Season squash with cinnamon, ground cloves, salt, pepper.
Place squash, carrots, apple, maple syrup, water into Vitamix and blend until thoroughly blended and completely pureed. Add water in ½ cup at a time, and continue until you have the consistency you want.
You have the option of adding in a raw apple or raw pear instead of baking it.
Move the soup into a pot to heat on low.
In small frying pan, brown two tablespoons of butter. Add both the sage leaves and pecans. Sage leaves should be browned not burned.
Chop pecans.
Add chopped pecans and sage leaves to each bowl of soup.
Finish with a pinch of nutmeg.
Recipe by
Spinach Tiger
at https://spinachtiger.com/autumn-soup-roasted-butternut-squash-soup-with-browned-butter-sage-leaves-toasted-pecans/