Chicken with 40 Cloves of Garlic and Video: How to Peel Garlic in 10 Seconds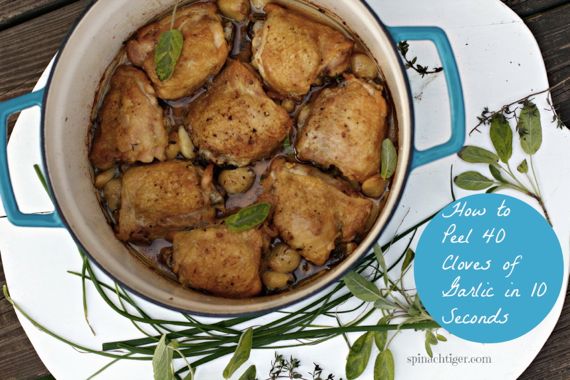 5½ quart dutch oven with lid, or baking dish that will hold 8 thighs in one layer.
8 chicken thighs on bone with skin
2 tablespoons olive oil
salt, pepper
40 cloves of garlic, peeled
fresh chives (can use scallions, or shallots)
few sprigs fresh thyme
2 tablespoons dry vermouth (or white wine)
fresh sage leaves
Season chicken with salt and pepper
Brown chicken in olive oil in heavy dutch oven. You may need to brown in two batches. Thigh skin is thick; brown well on medium low heat.
Remove chicken to platter. Set aside.
Add in herbs and half of the garlic to oil in pot. Add in dry vermouth. Add chicken thighs on top of the garlic. Add in remaining garlic.
Cover. Bake at 350 for 1½ hours.
Serve with crusty bread.
Recipe by
Spinach Tiger
at https://spinachtiger.com/chicken-with-40-cloves-of-garlic-and-video-how-to-peel-garlic-in-10-seconds/