Goat Cheese, Honey, Tomato Tart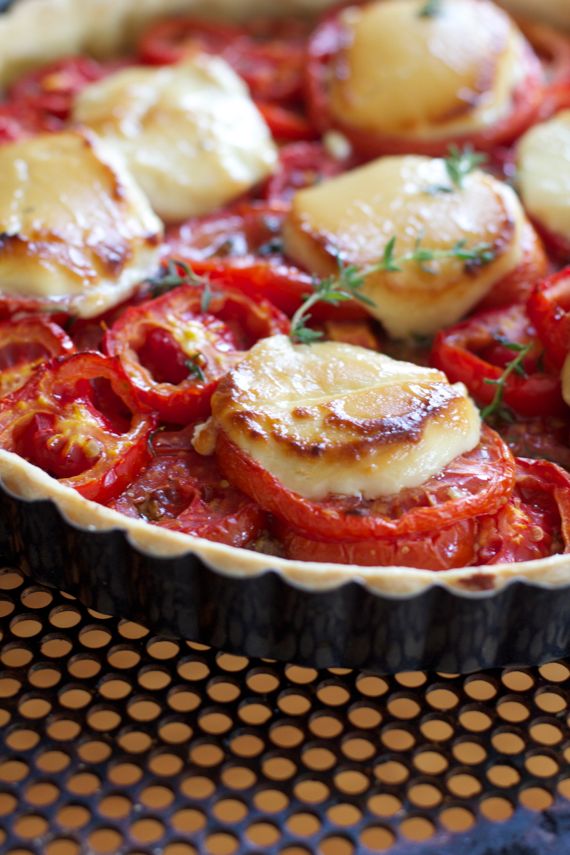 1½ flour
1 teaspoon sugar
½ teaspoon salt
9 tablespoons unsalted butter, placed in freezer for 15 minutes
1 tablespoons iced cold water
1 egg yolk
1 tart shell or pie crust
2 tablespoons of dark, grainy mustard or enough to cover bottom of tart
herbs such as thyme, tarragon, basil
3 large meaty tomatoes (not too juicy) sliced thickly
1 tablespoon olive oil
8 ounces of goat cheese in a log (easy to slice)
2 tablespoons of honey (may use more)
Using a food processor:
Using a food processor, mix together flour, sugar, salt.
Blend in butter and on medium speed, count to 10 seconds.
Blend in water and blend for a few seconds.
Blend in egg.
Bring together to form a dough ball, wrap in plastic and refrigerate for 30 minutes at least.
Using your hands:
Mix together the dry ingredients. Blend in the butter until you have a mealy flour mixture. Add in water and egg and knead gently until the dough forms a ball. Wrap in plastic and refrigerate for 30 minutes.
Roll out to three inches more than size of tart pan.
Gently place in tart pan, and using rolling pin, roll off the edges.
Fork the bottom of the tart shell. Spread on mustard until the base is covered.
Cover with a scattering of fresh herbs.
Arrange slices of tomato, keeping in mind that tomatoes do shrink.
Drizzle olive oil over tomatoes and season with salt and pepper.
Arrange 6 to 8 round discs of goat cheese cut about ½ inch thick on top of the tomatoes.
Drizzle honey over the entire tart, saving some honey for drizzling once tart is out of the oven.
Bake at 400 for 30 minutes. If making smaller tarts, reduce baking time.
Goat cheese will bubble and turn a golden brown. Serve hot or at room temperature.
Add more fresh herbs.
I found it best using lots of honey.
Recipe by
Spinach Tiger
at https://spinachtiger.com/goat-cheese-honey-tomato-tart/