Maple Cake with Maple Frosting, Candied Bacon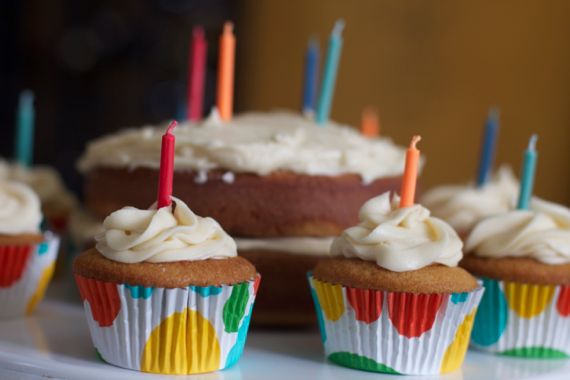 1½ cups all purpose flour
1 teaspoon baking powder
½ teaspoon baking soda
¼ teaspoon salt
½ cup or 1 stick of unsalted butter
½ cup light brown sugar
2 large eggs, room temperature
¼ cup pure maple syrup
½ teaspoon pure vanilla extract vanilla
⅓ cup buttermilk
½ cup butter
4 ounces cream cheese
3 cups confectioner's sugar
1 tablespoon maple syrup
⅛ maple extract (optional)
2 tablespoons of heavy cream
Sift together flour, baking powder, baking soda, and salt. Set aside.
Cream together brown sugar and butter for two minutes at least.
Add eggs one at a time. Mix on medium for 45 seconds.
Mix in maple syrup and vanilla.
Add in dry mixture a little at a time. Mix on medium.
Mix in buttermilk on low speed.
Pour into two six inch buttered-floured cake pans or 12 cupcake tins, lined.
Bake at 350 for 18-25 minutes, or until a toothpick comes out clean.
Cool completely prior to frosting. For the tiny cake, you can do two or four layers. This will serve up to 8 people, small pieces or 6 large pieces.
Mix together butter and cream cheese on medium high speed until incorporated.
Turn to low-medium speed and add in confectioner's sugar ½ cup at a time.
Once sugar is added, add in maple syrup and incorporate. I didn't have maple extract and added in another teaspoon of maple syrup.
Add in heavy cream as needed and beat for a few minutes until fluffy.
Frosting can be refrigerated up to three days before use or frozen.
This recipe makes a tiny cake (six inch cake pans) or 12 cupcakes. Double the recipe for a whole cake, using 9 inch cake pans.
Recipe by
Spinach Tiger
at https://spinachtiger.com/a-tiny-maple-cake-or-maple-cupcakes-with-maple-frosting-candied-bacon/