Pot Roast of Beef Braised in Red Wine, Mashed Potatoes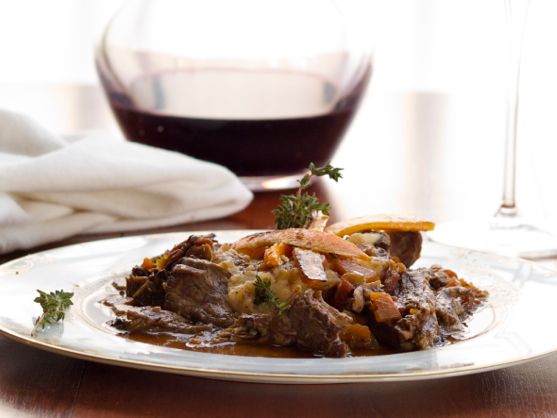 Vegetable oil
4 pounds boneless beef roast, preferably chuck
1 tablespoons butter
3 tablespoons onion, finely chopped
3 tablespoons celery, finely chopped
1½ cups dry red wine (see notes)
1 cup or more of beef stock or ½ cup canned with ½ cup water
1½ tablespoons chopped canned imported Italian plum tomatoes
Pinch of dried thyme (I used fresh)
1 teaspoon fresh marjoram or ¼ teaspoons dried
salt
black pepper freshly ground
Mashed Potatoes Bolognese Style
Instructions
8 large red potatoes, peeled, cut into large chunks (about 8 pieces per large potato)
4 -6 tablespoons butter
1 cup warmed milk (you may not use it all)
sea salt
white pepper
⅓ cup to ½ cup parmigiano-regianno
nutmeg
Preheat oven to 350
I used a cast iron dutch oven for one pot cooking. If you don't have a pot that goes into oven with a lid, you can cook this on top of the stove on a low simmer for 3-4 hours or (slow cooker) for several hours.
Using an enameled-cast iron dutch oven or skillet, brown meat in vegetable oil on high on all sides. Set aside. If you using cast iron dutch oven, remove meat with tongs to another plate.
Add vegetable oil, butter and onions, until softened. Add in celery, carrots.
Add in wine, cook off alcohol for about 5 minutes. Add broth, meat, tomatoes, thyme, marjoram, salt, pepper.
Oven method: Make sure the liquid comes up about ¾ of the way. Marcella suggests turning meat over every 20 minutes. I used cast iron pan that has a self basting lid and only turned the roast every 40 minutes. Roast in 350 degree oven to make sure
Top of the stove: Keep lid on, cook on a simmer for 3-4 hours, turning several times.
Slow Cooker: Completely submerge in liquid (adding more broth/water if necessary) and cook for several hours, 6-8.
If roast is over 4 pounds, double all the ingredients, and be sure to use a pan that fits the roast. Too large of a pan will spread the liquid out to much.
Wine Notes:
Barolo wine at my wine store starts at $46. Other suggestions included Barbaresco, Barbera, Syrah (from California or Australia) or Zinfandel. I chose Zinfandel for the cooking and drinking with this dish.
It is critical to use a decent wine in this dish. I made a six-pound roast and used the whole bottle, doubling all the ingredients. Use a freshly opened bottle; your dish will only be as good as the wine you use.
Prep potatoes once roast is in oven. They can sit in a pan of cold water until ready to use. Rinse well, start again in cold, salted water, put on stove. Mashed potatoes should be fluffy, not creamy, so as soon as potatoes are fork tender, drain water, and mash with a fork or masher. Do not use an electric mixer, as this changes the chemistry of the potatoes, too often turning them gummy. To guarantee no lumps, use a ricer. You can use a regular dinner fork and mash, adding butter. Slowly add warmed milk, using just enough to make fluffy. Too much milk will also make potatoes too gooey and not substantial enough for this roast. Season with salt and pepper and optionally, parmigianno-regiano cheese, freshly grated.
I made potatoes both with and without cheese and nutmeg and liked both versions for this roast.
Recipe by
Spinach Tiger
at https://spinachtiger.com/pot-roast-of-beef-braised-in-red-wine-mashed-potatoes/