Seared Tuna Nicoise Salad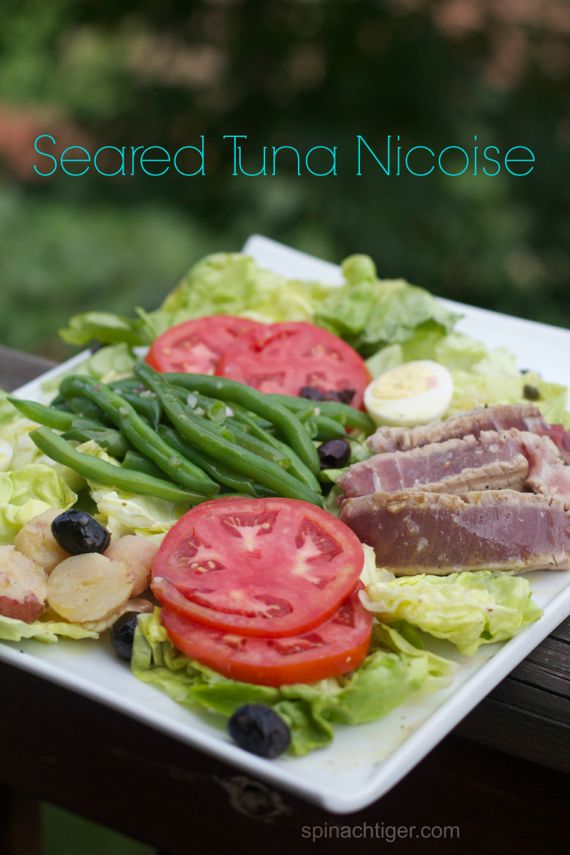 tuna steak enough for as many people you are serving
bib lettuce
1 ripe tomato, sliced
1 cup boiled small potatoes
1 hard boiled egg
1 handful cooked green beans
1 teaspoon capers
10 oil cured olives or nicoise olives
anchovies (optional)
salt
pepper
2 tablespoons shallots, finely minced
2 garlic cloves, minced
2 tablespoons dijon mustard
2 tablespoons champagne or white vinegar
1 tablespoon fresh tarragon
¼ cup extra virgin olive oil
1 teaspoon honey
salt
pepper
Brush tuna with olive oil. Season with salt and pepper.
Heat 10 inch frying pan on medium low heat. Add 1 tablespoon of olive oil. When oil is hot, add Ahi Tuna and sear one minute on each side. Set aside.
Wash lettuce arrange on place with sliced tomatoes, egg, potatoes, olives, green beans.
Arrange tuna on salad. Add capers. Drizzle with vinagrette.
Mix mustard with vinegar. Add honey and add in rest of ingredients.
Season salad with salt and pepper
Recipe by
Spinach Tiger
at https://spinachtiger.com/seared-tuna-nicoise-salad-with-shallot-vinaigrette-dressing/