Grilling a Whole Fish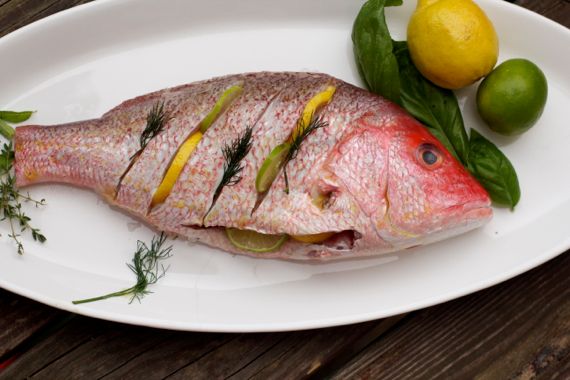 1 whole red snapper, scaled and gutted
olive oil
1 lemon
1 lime
fresh herbs such as basil, thyme, parsley, dill
salt
pepper
Rub olive oil over fish. Make sure to oil the bottom of the fish.
Make 4 slits all the way to the bone on each side of the fish
Stuff the fish with slices of lemons, limes and fresh herbs.
Season with salt and pepper.
Allow fish to sit out for at least 30 minutes.
Heat the grill on high. Place fish on grill.
Turn grill down. Cook for 25-30 minutes.
If using an oven, bake on baking sheet (preferably with parchment paper) at 425 degrees. Bake for 30 minutes. Do not turn over.
Peel skin back. Using spoon and knife, remove the fish off of the bones. The bones will lift off in one piece. There will be a few bones you will miss. Be aware of that.