Walnut Pesto Sauce with Seven Herbs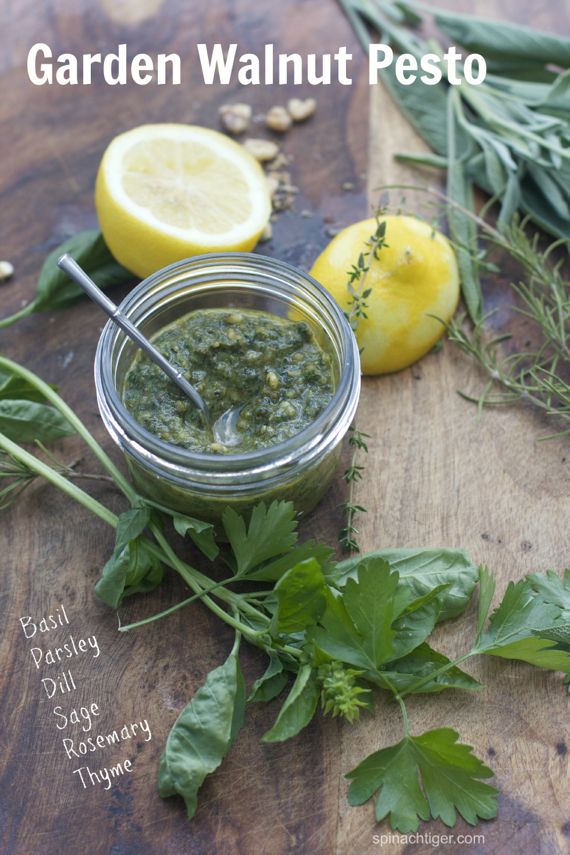 2-3 handfuls of basil leaves
1 handful of flat Italian parsley
2-4 leaves of sage
½ teaspoon chopped rosemary leaves
½ teaspoon chopped fresh dill
2-4 sprigs of thyme (remove from stem)
1 teaspoon finely chopped chives
lemon juice of ½ lemon
lemon zest of ½ lemon
sea salt
freshly ground black pepper
⅓ cup olive oil
⅓ cup toasted walnuts
Put herbs, salt, pepper, lemon juice, walnuts in food processor, adding oil a little at a time, pulsing until the pesto is chunky but mixed well enough to spread. Don't over mix. Stir in lemon zest at the end.
Recipe Notes: This can be made with just basil or a mix of basil and parsley. Use the additional herbs if you happen to have them on hand, and only in small amounts. Be sure to chop the chives very fine by hand before adding to the pesto.
The pesto can sit outside of refrigerator for several hours, but do refrigerate overnight.
Recipe by
Spinach Tiger
at https://spinachtiger.com/walnut-pesto-sauce-with-seven-herbs/