Retro Rose Cooks Barbecued Lima Beans aka Large Butter Beans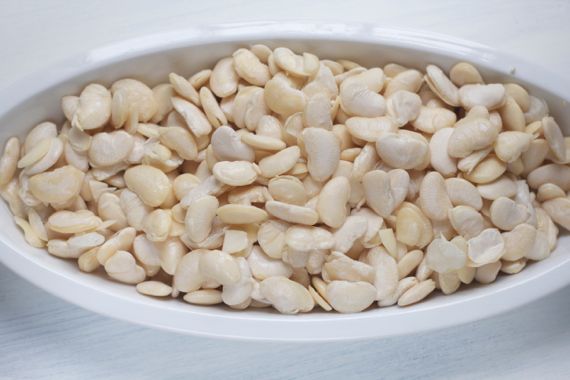 1 pound dry large lima beans (or 6 cans)
Benton's bacon (2 ounces) or 6 ounces of regular bacon (see note)
1 onion, finely diced
1 small red bell pepper, finely diced
16 ounces tomato sauce
1 cup ketchup
1½ cup brown sugar
½ cup maple syrup
dash cinnamon
dash nutmeg
salt
pepper
2 tablespoons bourbon
water as needed
Soak beans overnight
Chop bacon into large bits and fry.
Add onions and pepper and dash salt to the bacon grease. Saute for a few minutes just to wilt.
In a bowl add tomato sauce, ketchup, onions and peppers, brown sugar, maple syrup, cinnamon, nutmeg, more salt and pepper and mix.
Add in bourbon and taste. You might want to add a touch more. The alcohol will bake off. The beans must be thoroughly in the liquid and keep in mind the liquid will reduce down. Add in water as needed.
Mix with beans in a shallow baking dish and add in bacon.
Bake at 300 for about 4 hours or until it gets gooey and caramelized and beans are cooked.
Option: Put the beans in a slow cooker overnight on low or for about 6 hours until done.
Regarding Benton's bacon, it's a regional bacon that is very smokey. A little goes a long way. You can also optionally add in some cooked sausage. Do ahead. Soak beans and make sauce. Refrigerate overnight and bake the next day. You might want to bring down to room temperature before baking, but not a necessity.
Recipe by
Spinach Tiger
at https://spinachtiger.com/maple-bourbon-baked-butter-beans-from-retro-rose/