Pan Roasted Chicken with Golden Grape Tomato Agrodolce (Sweet and Sour) with Polenta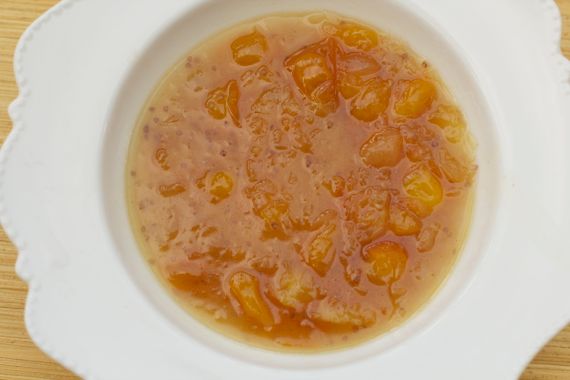 I whole chicken cut up into 4 parts, breasts with wings, thighs with legs (or pre cut chicken parts of your choice)
sea salt
3 tablespoons olive oil
½ onion or 2 shallots, diced
8 ounces golden grape tomatoes, cut into quarters
⅔ cup champagne vinegar (can use red wine or balsamic)
2 tablespoons sugar
2 cups dry polenta made according to instructions. Can use instant or regular.
4 tablespoons butter
Salt chicken parts, wrap in plastic for two days in refrigerator. As a short cut, you can salt when you are taking it to room temperature.
Bring to room temperature, leaving out for an hour to two hours.
Light grill to highest heat. Spray grill with cooking spray.
Put chicken on grill skin side down for 10 minutes. Turn grill down to medium high (about 500-600 degrees). Turn chicken at about 20 minutes or when it's golden brown. Cook another 15-20 minutes or until done.
In the meantime, make polenta and agrodolce.
Make polenta according to instructions. Add in two tablespoons butter to polenta if that is not part of the instructions to make it creamy.
Heat olive oil in pan. Add onion and cook until softened and golden. Add tomatoes and cook for a few minutes. Add in sugar and vinegar and reduce down about 10 -15 minutes. During last few minutes add in 2 tablespoons of butter.
Assemble dish, with first polenta, chicken. Pour sauce over chicken. Serve immediately.
Recipe by
Spinach Tiger
at https://spinachtiger.com/pan-roasted-chicken-with-golden-grape-tomato-agridolce-sweet-and-sour-with-polenta/