Papparadelle with Prosciutto Meatballs, Chunky Tomato Sauce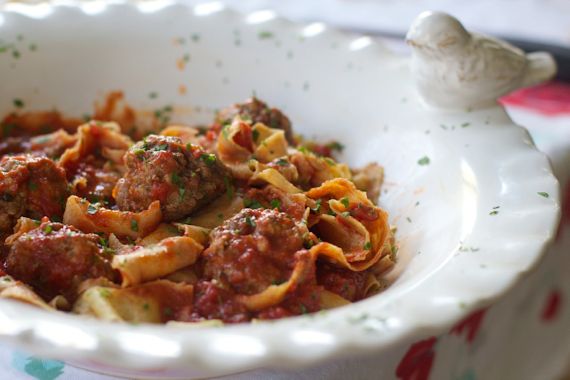 2 large cans San Marzano Tomatoes
olive oil
½ onion, quartered
1 garlic clove , peeled left whole
fresh herb such as fresh Italian parsley or fresh basil
sea salt
black pepper
1 slice white sandwich bread, torn into large pieces
½ cup milk
1 pound grass fed ground beef (you can use half and half ground pork)
1 large egg
3½ slices prosciutto, finely chopped
2½ tablespoons finely chopped Italian parsley
½ teaspoon fine sea salt
⅛ teaspoon freshly ground black pepper
Place oil in pan with onion. Sweat onion for two minutes on medium heat. Add in garlic clove. Cook until almost golden. Remove onion and garlic. Add in tomatoes and one half can water. Add salt, pepper, herbs. On medium low heat, cook for 15 minutes. Add in meatballs. Cook for 30 minutes. Sauce will chunky and fresh. If you need to keep warm longer on stove, simmer at lowest possible heat.
Combine ground beef and one egg.
Add bread, prosciutto, parsley, ½ teaspoon salt and pepper. Combine with hands gently. Do not overwork.
Form into 2 tablespoon portions and form meatballs. Fry in olive oil for 3 minutes.
Place in tomato sauce, cook for 30 minutes.
Cook pasta according to instructions or see homemade pasta here.
Assemble pasta, meatballs, sauce.
Recipe by
Spinach Tiger
at https://spinachtiger.com/papparadelle-with-prosciutto-meatballs-chunky-tomato-sauce/