Roasted Okra, Eggplant and Cherry Tomatoes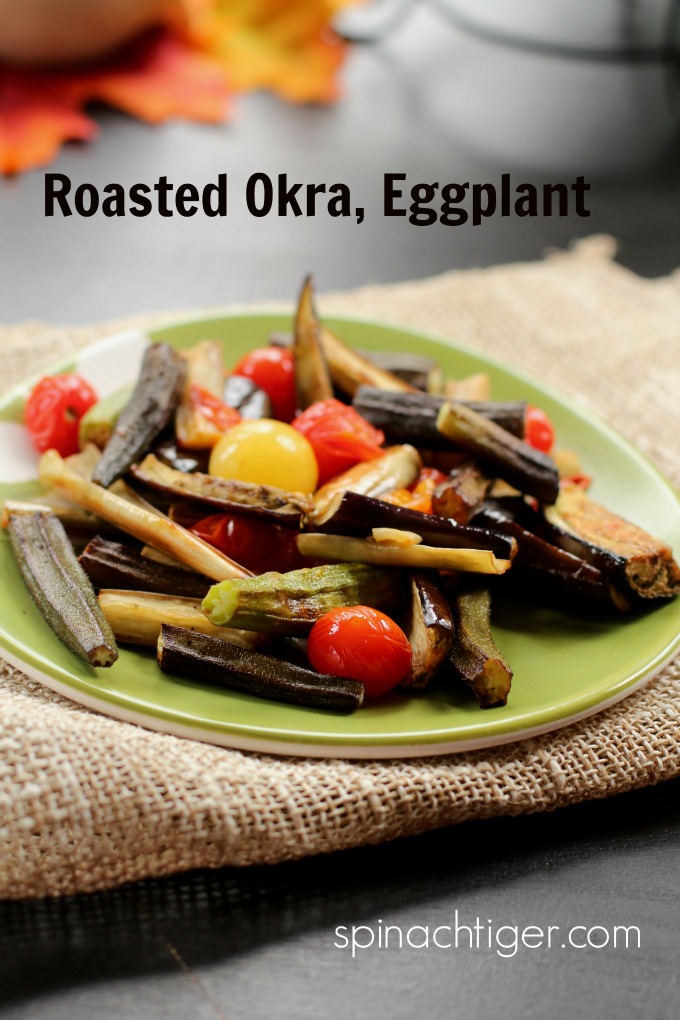 Recipe type:
Vegetable Dish
10 okra
5 Baby Eggplant
3 garlic cloves
10 cherry tomatoes
olive oil
sea salt, black pepper
½ teaspoon fresh thyme
dash of balsamic vinegar
Chop off tips of okra and eggplant
Slice okra crosswise
Slice eggplant down center and then crosswise in same size as okra. If okra, cut in half is 2 inches, match the eggplant and cut in 2 inch pieces.
Arrange in shallow baking dish with 3 cloves of garlic.
Toss with olive oil, salt and pepper
Roast for 10 minutes. Toss. Add in tomatoes. Roast for another 10 minutes, checking at 5 minute intervals. You may need more or less time.
Toss with a dash of balsamic vinegar and sprinkle with fresh thyme.
Salt and pepper to taste.
You can add the tomatoes in right from the beginning if you prefer. As far as knowing when the dish is done, the garlic should be spreadable and this deserves some crusty bread.
Recipe by
Spinach Tiger
at https://spinachtiger.com/roasted-okra-eggplant-and-cherry-tomatoes/