Healthy Spelt and Flax Pancakes with Cinnamon, Vanilla and Orange Zest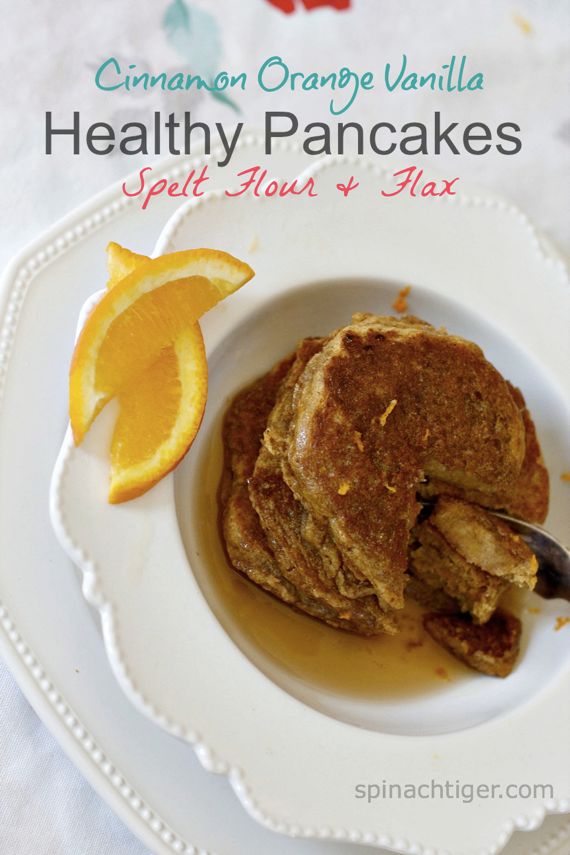 ¼ cup organic milled flax seed
1 cup spelt flour
2 teaspoons baking powder
½ teaspoon baking soda
2 tablespoons sugar (I used sucanat)
½ teaspoon salt
½ teaspoon cinnamon
1 teaspoon orange zest
1 cup buttermilk
1 egg
1 teaspoon vanilla
¼ cup coconut oil or avocado oil
Mix the dry ingredients together in one bowl. Mix in orange zest.
Mix egg, buttermilk, oil, vanilla in another bowl.
Pour the liquid into the dry ingredients. Mix. Batter will be thick.
Heat a griddle or seasoned cast iron pan on medium heat. Use a paper towel to wipe on some oil. There should be no oil puddling.
Cook pancakes, turning the heat down. Turn when edges appear cooked. You might have to do a practice pancake to see how your stove and pan work with this batter.
Serve with additional orange zest and maple syrup.
Recipe by
Spinach Tiger
at https://spinachtiger.com/spelt-and-flax-pancakes-with-cinnamon-vanilla-and-orange-zest/