Maple Buttermilk Scones with Lavender Sea Salt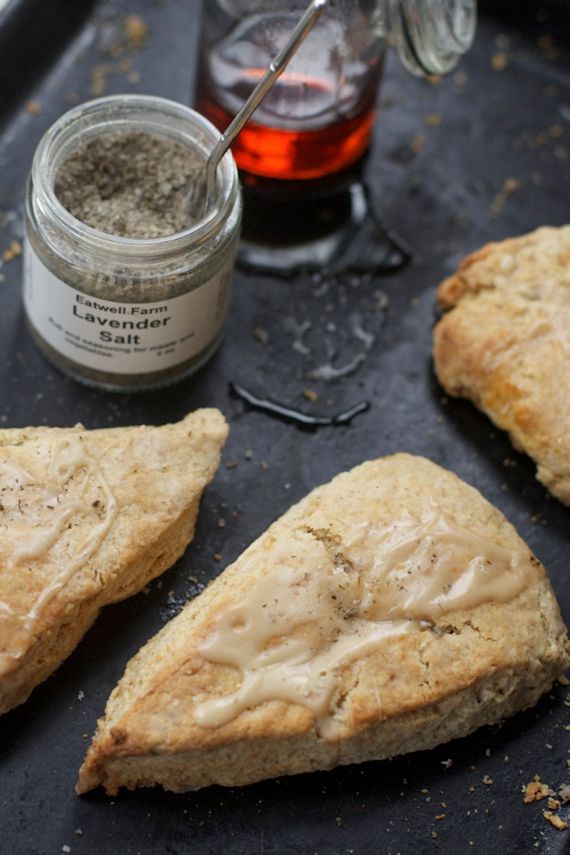 Recipe type:
Breakfast Bread
2 cups all purpose flour
1 cup spelt flour (you can sub with all purpose or whole wheat flour)
1½ tablespoons baking powder
½ teaspoon baking soda
½ teaspoon salt
2 tablespoons dark brown sugar
1½ sticks butter (12 tablespoons)
½ cup buttermilk
½ cup maple syrup plus 2 tablespoons for glaze
3 tablespoons confectioner's sugar
2 tablespoons lavender sea salt (might not use all)
Mix in one bowl, flour, baking powder, baking soda, salt, brown sugar together. Mix cold pieces butter together in flour. You can use a food processor for this part, no longer than 10 seconds or use a pastry cutter. I just mix with my hands. Add in buttermilk and ½ cup maple syrup and mix with a wooden spoon. Knead about 8 times into a mound of dough. Roll out into two small circle. Cut 6 wedges from each circle.
Bake at 400 for 16-20 minutes, depending on size of each wedge.
Make glaze by mixing maple syrup and confectioner's sugar to make glaze.
While warm, drizzle maple glaze . Sprinkle with sea salt.
Recipe by
Spinach Tiger
at https://spinachtiger.com/maple-buttermilk-scones-with-lavender-sea-salt/