The Bound'ry opened its doors twenty years ago in the Belmont/Vanderbilt area, leading the race in making Nashville a food destination. This longevity is a huge testament to it's diverse, global menu and quest to step out of the box with wild game selections, and bold flavors.
A few weeks ago, I got a first glimpse of the new Spring menu at the Bound'ry at a Media premier.
The first sip of the first new cocktail, the Cardinal Rule,  told me it was going to be a memorable evening.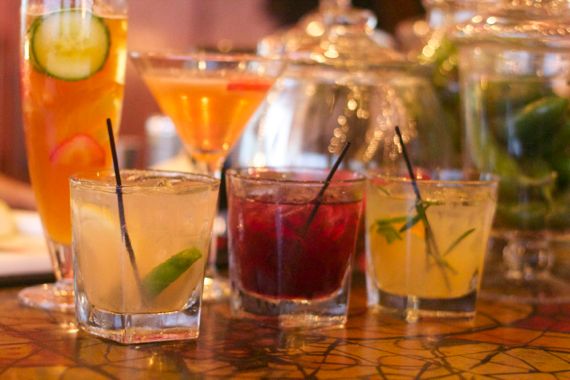 Cardinal Rule is made with Belle Meade Bourbon, Fonesca Bin No. 27, Amara Meletti, House Grenadine.Fee Brothers Plum Bitters, Bourdeux Cherries Not too sweet, smooth, and the perfect cocktail for someone who can't decide between an old fashioned and a big fat cab.
The second cocktail I tried was the Pim's Royal Cup, Pmm's no. 1, (revamped for Spring with strawberry) ginger beer, cucumber, strawberry, mint, cava.  Refreshing, balanced, and so darn drinkable for summer!
The other new Spring Cocktails include T.M.I. (tequila based), Angel's Julep (vanilla infused), Siren's Seduction (vodka, strawberry, lemon),  and the Wimberly (bourbon based). We were offered full sized cocktails, otherwise I would have loved a tasting of all.
During the cocktail hour, we were treated to mind blowing appetizers. I've been to Italy, where even the middle class still hang clothes out on the line, but I have never seen prosciutto held with clothespins. House-made prosciutto, served with three different cheeses was so good, this could have been all we were served and I would be happy.
It's listed on the menu as Hanging Meats & Cheese Board – Selection of three artisan cheese and three house-cured meats.  Sometime this year, you must at least go for a drink and and this charcuterie board.  It's not only fun to look at; it's probably the thing I ate the most of during the evening.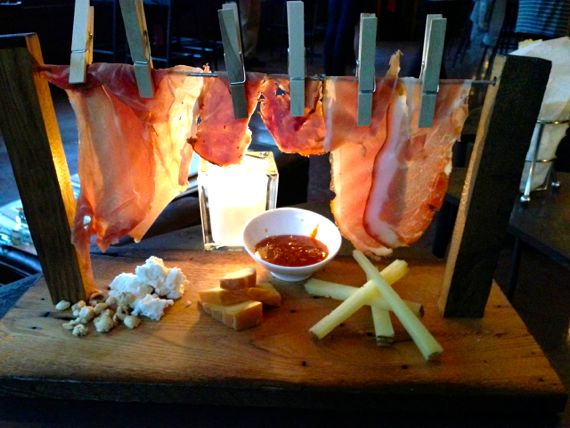 Tuna Made Two Ways: A 5 spice seared and a ginger sake tartare, cucumber, avocado, sweet potato chips, wasabi mayo, basil paint, Himalayan sea salt. Different, yet complimentary, and be careful if you decide to share this, as you'll fight over that bite. It looks beautiful, tastes even better.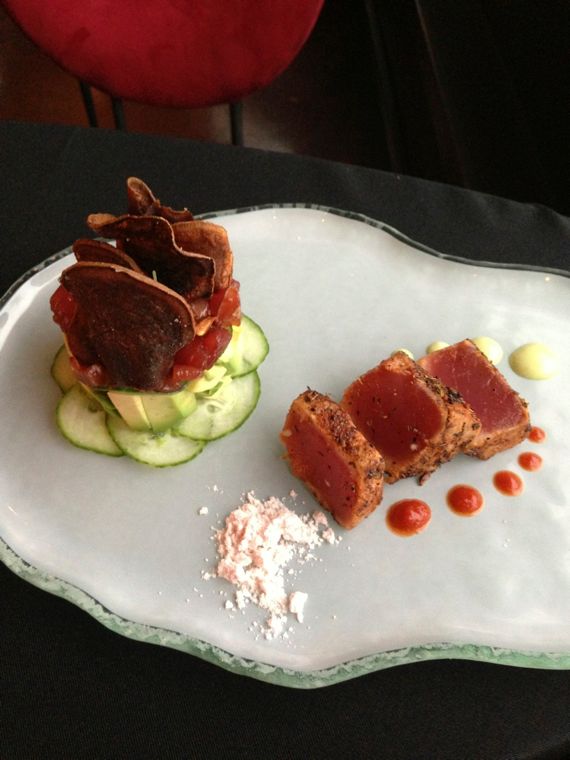 As the evening progressed, we had a severe rain storm. The room was very dark, which made pictures difficult to take, and not able to do the food justice.
Next we were served a Braised Rabbit & Ricotta Ravioi ,pine nuts, chanterelles, veal marrow butter. Pasta is light, allowing for all the flavors and textures to come through. I tried my first antelope and was surprised that it was not gamey, slightly smokey, and perfectly cooked. Find it on the menu as Smoked Texas Antelope. This was a tasting evening and we were served a small lamb chop, but you can look forward to a full rack of lamb, a New Zealand Lamb lathered rosemary, mustard, sage butter, Brussels Sprouts, roasted fingerling potatoes, fig-merlot balsamic.

Bourbon Belly Tacos, crispy Belle Meade smoked bacon, hot pepper jam, sesame, line slaw, whipped egg, flour tortilla. This could be another reason to come plop at the bar and eat tacos all night long.
Executive Chef, Phil Shyatt
The highlight of the night was hearing from Executive Chef, Phil Shyatt.  His passion for the food was loud and clear, but what most struck me about him was his love for the team. When a chef glows about the people in the kitchen, that camaraderie and collaborative spirit is going to show itself in the food. He's still young at 28, but got his first job as a head chef at age 21. He looks back at those who have mentored him with honor and respect.
His philosophy in the kitchen is to be a team, to do things the long way, avoiding short cuts, enjoying the process, and being proud of the outcome.
Pastry Chef, Jessica Collins, introduced her dessert menu to us. The ones that stood out for me are the Salted Caramel Chocolate Mousse Terrine, layered with Pistacho over an Oreo Cookie Crumb, and the Smores Dessert because it comes with Smoked Marshmallow Cherry Ice Cream. Cherries seem to abound at the Bound'ry and that's okay by me.
My favorite of the evening was the strawberry cake with white chocolate, black pepper ice cream. This particular dessert deserves a permanent place on the menu, as it compliments the unique flavors and creative personality that has made the Bound'ry a fun dining destination.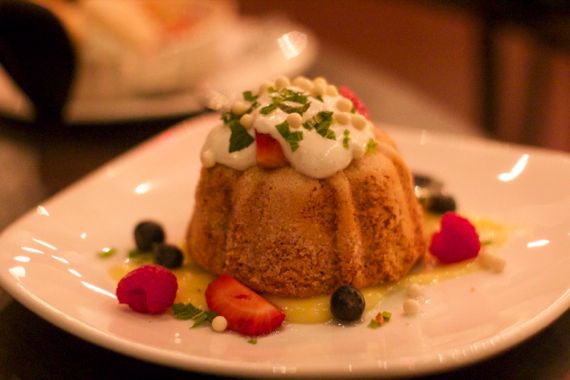 As you explore the burgeoning food explosion in Nashville, put the Bound'ry back on your radar. Well crafted cocktails, well-thought out food, uniquely creative, the Bound'ry consistently delivers a good food experience, setting the pace, not chasing after it.
911 20th Ave S
Nashville, TN

37212
(615) 321-3043
Disclosure: This was written after attending a media event. Opinions are strictly authentic.