Sweet Natured Treats is a new local sweets bakery, located in Franklin, Tennessee, and I'm excited to tell you about it, because Angie is a friend.  
I met Angie Gordon about a year ago at a Nashville food blogger's coffee event which included a breakfast pot luck. She brought the most memorable sausage biscuits I've ever eaten. I actually skipped out on all the rest of the food to have two servings. We realized we lived in the same subdivision and made friends on the spot.
In just a few minutes of conversation, Angie's passion for baking became clear.  She talked about cheesecakes as her specialty and although she had a full-time job in the corporate world, she was baking the cheesecakes for a local upscale restaurant, the Red Pony.
A few months later, just for fun, Angie and I shared a table space at the Cupcake Palooza, baking and selling hundreds of cupcakes for a charity benefit. We talked more about our love of baking and those cheesecakes.  When I wanted to do a savory cheesecake, I went to her for advice and she steered me in the right direction. In my mind, Angie was always a baker.
I asked Angie how baking became a part of her life. She told me she remembers the defining moment.  When she was around 13 years old, she was off school due to a snow day. She wanted brownies and went into the kitchen and made them from scratch, all on her own. It marked her path and passion, which she is now able to devote herself full time.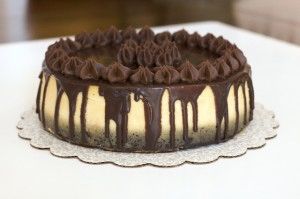 Angie is now turning that passion into a business. Out of the blue, an opportunity presented itself and she grabbed it. Partnering with a local cupcake and cookie company,  Angie found her small business evolving quickly. A few months after partnering, she is taking over the business and making it her own. She may still sell some of the baked goods, original to the shop from Noi, but for the most part, Angie is branching out in her own direction. She started in September, just in time for the holidays, where it wasn't uncommon to work 80 hours baking cheesecakes and making people's holiday table quite special.
Chocolate Covered Brownie Bottom Cheesecake, photo from Angie's website.
I couldn't wait to taste her cheesecake, because she always described it just the way I like it. Dense and creamy. Dangerously addictive. To make it even further tempting for me, when I visited her store, she had some of her heavenly cheesecake sandwiched between red velvet cake.   This is last supper dessert delicious. She makes her own red velvet cake which is perfect and I know red velvet cake, as it's a passion of mine. She gets it so right, and happily had them in individual servings in mason jars. I'm a huge fan of dessert jars. I took a few home and after eating one, I had to get the other one in the freezer right away because it was too tempting.
Angie not only sells her sweet natured treats to the public, she supplies local restaurants, currently baking up amazing selections such as Bourbon Pecan Cheesecake for the very new and upcoming Cork and Cow.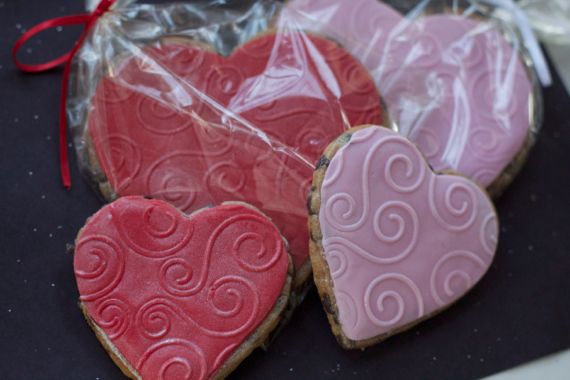 Underneath these gorgeous cookies are chocolate chip hearts.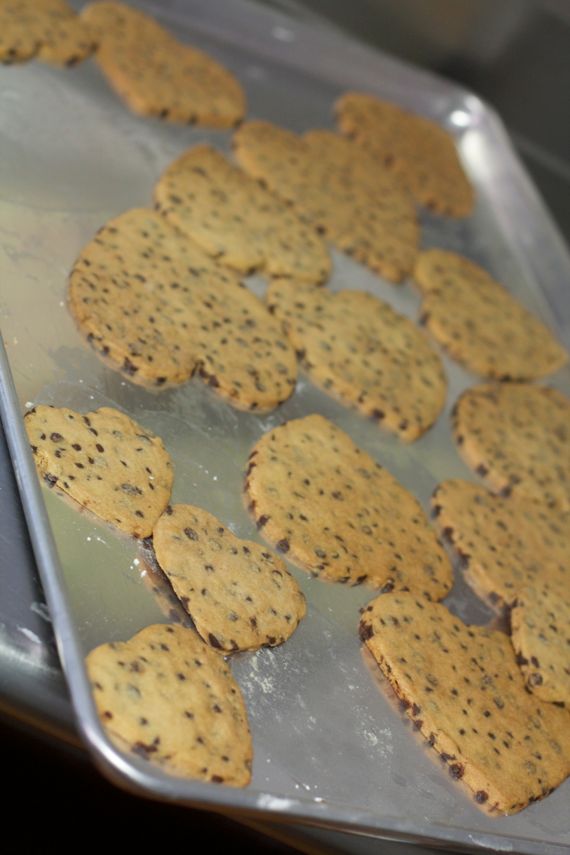 I received this surprise cake for Valentine's Day from Mr. ST. It was so good.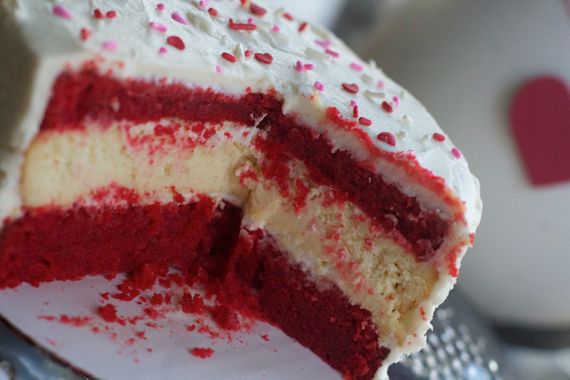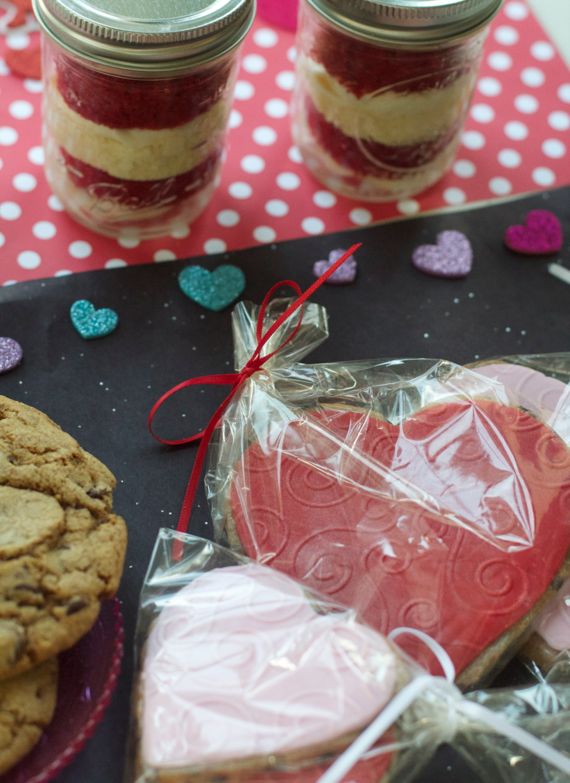 I took home the cutest Valentine's heart chocolate chip cookies, a nice change from the typical sugar cookies. The jars are red velvet cake with cheesecake in the middle. Delicious.  I had to quickly freeze the second jar before I ate it. (Yes you can freeze dessert jars).
I know that for my birthday this year, I'm getting the large sized red velvet cheesecake. But Angie tells me that she makes an amazing ginger peach cheesecake that is her personal favorite. I can't wait for fresh peach season to try that.
The cheesecakes comes in 3 sizes. The classic flavors start at $18 and will serve six. The 8 inch classic serves 12 and is $30, and the largest size serves 18 and is $45. Her signature flavors are a priced a little higher at $25, $45, and $60 and are worth it, making any special occasion more special. As her name implies, Angie is also a sweet natured gal. Upon request, she will do vegan and gluten free desserts, and will work with you for special occasions.
Angie's Sweet Natured Treats is an evolving business, moving faster than she anticipated. Become a facebook fan to get the latest information.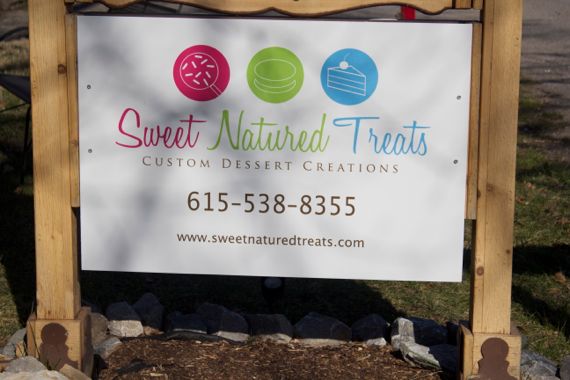 Retail hours for Sweet Natured Treats is open Tuesday -Friday from 9 – 5.
Located at 1210 W. Main Street, Franklin, Tennessee