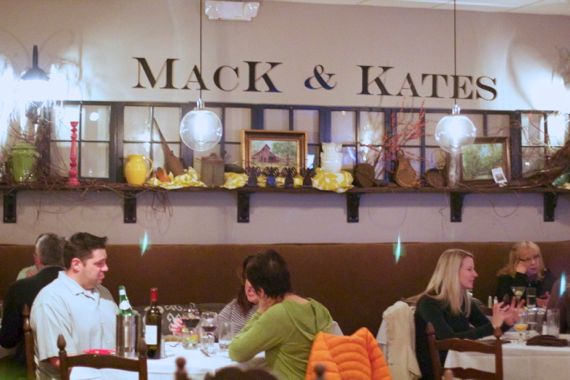 In my last post I told you about M Restaurant and Bar in Nashville, the sophisticated cousin of Mack & Kate's, both owned by Jan and Bernie Strawn.
Mack & Kate's on my white board list for a long time but for some reason every time we go out for dinner, we drive right through Franklin and into Nashville, where there are so many new restaurants to try and a few old favorites. Eating at M a few months ago pushed me right to the front door of Mack & Kate's and making me realize I wish I'd have tried them sooner.
We loved the decor. While M is sophisticated and chic, Mack & Kate's is sophisticated and rustic, self-described as country urban.  Once you walk through the door of Mack & Kate's, you are transported somewhere else  We remarked over and over about the charming ambiance, that doesn't look like any other restaurant in the area.  Rustic barn wood is used on the walls, but designed with flair.
The menu at Mack & Kate's  is chef driven, Southern and just a tad fussy enough to feel modern. Mack & Kate's is the kind of place where one could drop in a few times a week and sit at the charming bar , and have something like grouper sliders or their signature lobster mac & cheese.
The dinner menu choices are well-thought out, and there are even some Italian notes in the entrees such as Seafood gnocci, and chicken papparadelle. However, if you want down home cooking, they offer dishes such as  meatloaf and of course, their stellar shrimp and grits.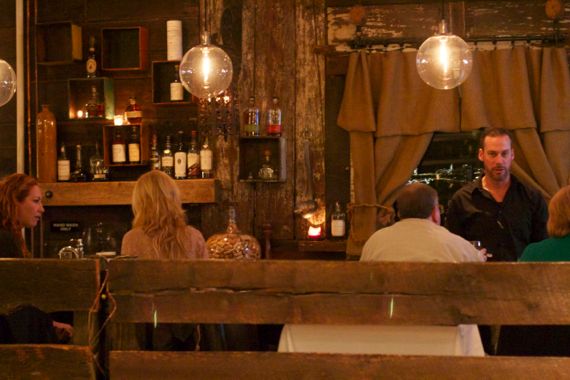 We started the night with a shared crab and avocado salad that was recommended by a friend. The flavors were delicious, acid perfectly balanced, a nice surprise with the grapefruit.  Although very tasty, the price is $16, and warrants more crab.   This was half the original order, as they split it into two for us, but crab is the first listed item and seemed more of an afterthought to the salad than the star.
On the other hand, the steak and biscuits with truffle french fries  would entice me back again and again. The steak was fillet and perfectly cooked medium rare and tender, stuck between homemade Southern biscuits.  The french fries are probably the best I've had in the past year…the kind that are hard to stop eating. This is a filling dish, easy to split and more than enough food for $15.
The special of the day was a grilled turbot that was every bit as delicious as the server promised, served with risotto. While the steak and biscuits show off their Southern finesse, the grilled turbot was grilled just right  and the risotto was creamy and delicious. The dish was wasn't just good tasting; it was creative and original.
We discovered they serve the same fantastic blackberry cobbler that we had an M. I can't recommend this cobbler enough. It's a perfect way to end a meal.
I want to return to Mack & Kate's again for either dish, but there are quite a few things I still want to try. The brunch menu looks amazing and is just as versatile as dinner with items like crab cake benedict or Tuscan with poached eggs, prosciutto, and asparagus. While Mack & Kate's claims to be a Southern restaurant, they certainly step outside the box.
Private Parties
My husband's company dinner was held at Mack & Kate's this year, a party of twenty. Food and service were impeccable. The filet mignon, was served French style with an egg on top, which was excellent and cooked just perfectly. The desserts included the best peanut butter pie my husband ever ate and a delicious coconut cake.
The only negative is something I hope they fix. The seating is uncomfortable. The tables have a bar across them which makes it impossible to cross your legs. My friend and I both were bothered by this all through dinner.  The food is worth the trip, and hopefully, the seating will improve.
I highly recommend Mack & Kate's. It' has Southern charm, a seasonal, chef-driven menu with originality and good food.  I've enjoyed meals at M and Mack & Kate's Cafe and a delicious meatloaf sandwich at Kate's Kitchen, in Franklin.