My intention today was to bring you a post that was Spinach Tiger fit, light and healthy. But then I had a better idea.
Remember back when you were a child and you were eating your mom's food. If you were lucky like me, your mother was a good cook, who cooked from scratch the old fashioned way with whole, fresh food in abundance. This is the kind of food that is not really fattening in and of itself because it doesn't come in a box or a bag with a zillion preservatives, mystery chemicals and hidden sugar calories. The only reason it could be fattening is that it's so good, you go back for two or three helpings. Back in those days, the food was real, delicious and served on a plate at a table without cell phones. People were not so fat.
I thought I would serve you up some of those good old fashioned comfort foods today. I stand by my philosophy that if you make this food the right way, one serving will be enough to feel happy and satisfied. And, if you must go back for seconds, just take a run around the block.
I make the above banana pancakes frequently adding a warmed nutella topping. This is the kind of Sunday morning breakfast kids will remember all their life and I discovered the recipe at Sophisticated Gourmet linked below.
 
Happy Mother's Day to all the moms out there who have poured their heart and soul and good nutrition into their children. It's funny because many of the bloggers below are not yet moms (some never will be because they are guys), but I think you see that someone wonderful influenced them in the kitchen.
Tell me, what dish do you most remember your mother for?
Banana Pancakes from the Sophisticated Gourmet
Hot Mustard Grilled Cheese from Sippity Sup
Shepherd's Pie from the Left Over Queen
Chicken Pot Pie from Not Quite Nigella
Chocolate Cupcakes from Canelle et Vanille
Cinnamon Buns from Sabra at Spoonful
Sloppy Joe's from the Duo Dishes
Eggplant Parmesan from The Italian Dish
Chicken and Dumplings from Macheesmo
Civil War Macaroni and Cheese from Simply Recipes
Banana Pudding from The Brown Eyed Baker
Spaghetti and Meatballs from Spinach Tiger
Peanut Butter and Jelly Cupcakes from My Baking Addiction
Peanut Butter and Jelly Panini from Panini Happy
Chicken Noodle Soup with Homemade Noodles from For the Love of Cooking
Deviled Eggs from Pinch My Salt
Pain Perdu (Real French Toast) from No Recipes
Whole Soft Cooked Eggs from La Tartine Gourmand
Cooking Between Mother and Daughter from La Tartine Gourmand
Cream of Tomato Soup from Whisk: A Food Blog
Meatball Lasagna, from me, Spinach Tiger
My Mom's Twice Baked Potatoes from Sippity Sup
Perfect Pot Roast from The Pioneer Woman
Deep Dish Apple Pie from Souvlaki for the Soul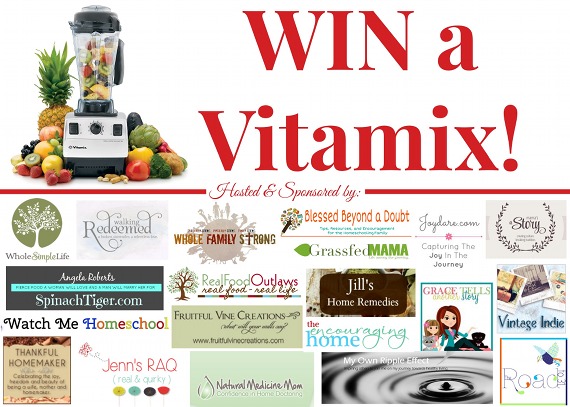 A group of fabulous bloggers have gotten together to offer your family a Vitamix 5200, valued at $449, for FREE!
We know how important caring for your family is to you and that it's not always easy to get your own top of the line blender, so we have brought one to you. This tough cookie can do it all and is a staple in most professional kitchens. Now it can be a staple in your kitchen as well.