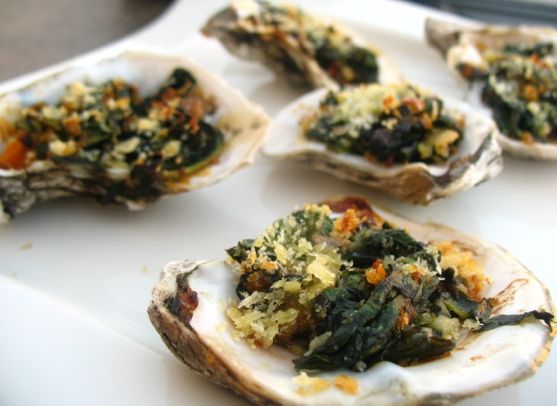 When making oysters, I immediately went to this website to refresh myself with the list. For those who are not sure what sustainable means, it's quite simple. Some seafood are over fished, and this upsets the oceanic atmosphere and eco system. This can happen when a fish such as orange roughy becomes very popular at market and because it has a long growth process. it has become over fished and its existence threatened, thus the oceanic atmosphere is affected. Seafood is considered sustainable when it does not harm the ocean. However, there is a list of seafood and fish that is considered "super green," which means it's not only good for the ocean, it's super good for you.
According to the Monterey Bay Aquarium Seafood Watch, the super green list includes seafood that meets the following three criteria:
• Low Levels of contaminants
• The daily minimum of omega 3s
• Classified as a Seafood Watch "Best Choice"
The seafoods that met these criteria included, fresh water coho salmon farmed in tank systems from the U.S., farmed oysters, wild-caught Pacific sardines and wild caught salmon from Alaska.
I eat a lot of salmon, but, the super green seafood that caught my eye was farmed oysters. The only oysters I've ever really liked are Oysters Rockefeller. The original recipe is still a secret and probably made with parsley and chervil, but the imitations found in many fine restaurants typically use spinach, perod or sambuca, heavy cream and cheese. Oysters Rockefeller was created in New Orleans over a hundred years ago and was named Rockefeller, after one of the wealthiest men of the day, because it was so rich.
I have been eating food with extra fitness in mind this year, so this is not Oysters Rockefeller. It is inspired by the dish, but much more fitting to my life style at least for now. I do intend to bring you the full-fat version one day in the future.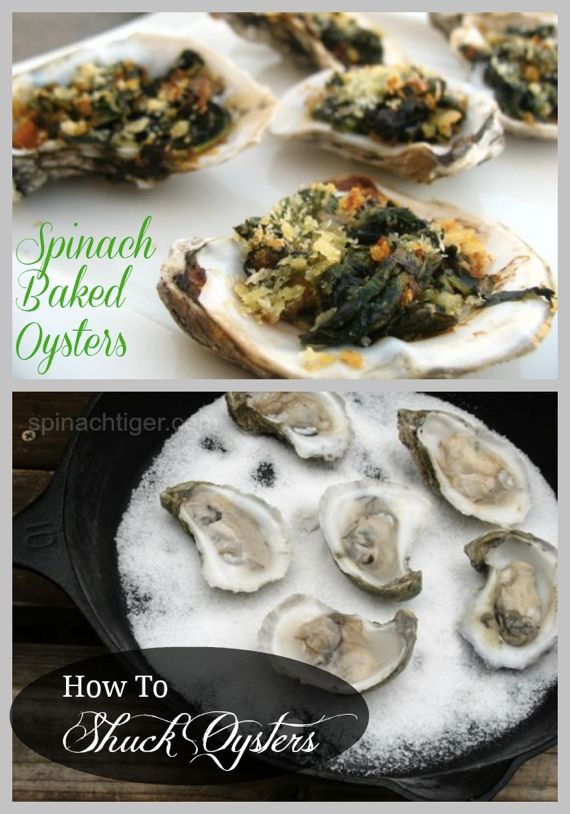 I put the oysters on a bed of salt in a cast iron pan to bake.
Storing Oysters
Don't plan on keeping oysters longer than the day you purchase them or use within 24 hours. Take them home on ice. Scrub them clean (remove beard) under cold water. Store them back in fridge with with cupped side on bottom, flat side on top. You can stack them, and place a damp towel over them. Don't put them in bucket of water. This will kill them.
After cleaning shells, put back in fridge for an hour so oysters rest. Otherwise they will be very tense and shucking will be difficult.
Shucking Oysters
Many people shy away from oysters because shucking seems daunting. But, after I watched this video here, I can now say I am a shucking pro and if you follow this method, it's as simple as 1-2-3.
1. Wear gloves (I use garden gloves) and use a shucking knife.
2. Roll up a towel so the oyster can lay against it in a near vertical position with hinge at top.
3. While holding the side of oyster opposite the hinge, insert knife into hinge and simply pry open. The idea is to unhinge, not to slide the knife around the oyster.
I was able to shuck six oysters in about a minute with no chance of cutting myself. And, that was half the battle to making this easy, nutrition filled, spinach tiger "fitter" version of baked oysters.
Tell me, are you slimming down this year and changing the way you eat?

Green Choice Sustainable Seafood: Baked Oysters, Not Quite Rockefeller and Super Easy Shucking!
Prep time:
Cook time:
Total time:
Baked Oysters with Spinach and bread crumbs
Ingredients
6 oysters, scrubbed under cold water, beard removed
olive oil (enough to cover pan)
1 teaspoon unsalted butter
2 shallot, diced (about two tablespoons)
¼ cup white wine
fresh thyme
lemon juice
2 handfuls of fresh baby spinach leaves or 1 cup spinach
panko breadcrumbs (enough to cover each oyster)
hot sauce to taste
Instructions
Put olive oil in pan, add shallot and cook just until translucent.
Add wine, lemon juice.
Add spinach, salt and pepper and fresh thyme. If you are using fresh baby spinach leaves, just barely cook. OPTIONALLY, you might want to add some hot sauce to mixture now To maintain bright green color, put in ice bath to cool.
Shuck oysters. Remember when purchasing oysters, keep them cold in fridge until use, but buy them the same day you are going to eat them. Don't take any oysters home that are open and don't immediately close when tapped. Use a shucking knife. Once open, do not pour out liquor (the natural juice of oyster).
Arrange oysters in baking pan.
I used a cast iron pan with course kosher salt, so oysters would stay in place Add a drop of hot sauce to oyster.
Spoon spinach (abut 1 tablespoon) to cover oyster and top with bread crumbs. Bake in hot oven at 450 for 4 to 6 minutes.
Broil for 1 to 2 minutes.
Serve with optional hot sauce.

Preparation: towel, gloves, shucking knife, ice bath for spinach
Ingredients